Lotus Root Slices in Hibiscus and Ginger Syrup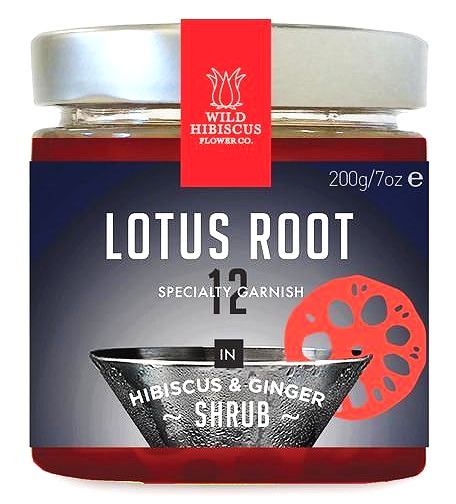 Lotus Root Slices in Hibiscus and Ginger Syrup
Thin slices in a brilliant red syrup made from fresh pressed hibiscus flowers and a hint of ginger. An intense sweet 'n sour punch for your next signature creation! You can also use the syrup to colour red cocktails or sauces – the colour is heat-stable so it retains its pure, clear red colour without fading to brown.
Not just for cocktails, they're perfect perched on the side of a sundae glass to glam up ice cream, with maybe just a swirl of syrup too. Match the colour with raspberry cheesecake, or the flavour with ginger desserts – you can even eat the crisp little discs once you're done.
No plant is more revered in ancient cultures than the sacred lotus. Lotus roots have a fascinating natural pattern with a mild flavor. Sliced and combined with interesting flavors, these Lotus Root Specialty Garnishes are perfect for decorating cocktails and food. The infused liquid in the jar is also an ingredient ready to be used. Choose from three natural flavors and colors to pair in with your creations.
Ingredients
Lotus root slices (40%), fresh pressed hibiscus flower juice, cane sugar, fresh ginger.
SIze
Sold in 200g/7oz net glass jar containing 12 x 3mm slices.
*Vegetarian, vegan and gluten-free.